Description
FANTECH HIVE UX2 GAMING MOUSE 74G
•PixArt 3360 Gaming Sensor (12,000 DPI)
•Six Macro Programmable Buttons
•50 Million Clicks
•Illumination: 7 Spectrum RGB Illumination
•Speed/Acceleration: 250ips/50g
•Lightweight Design 74gr
•Paracord USB Cable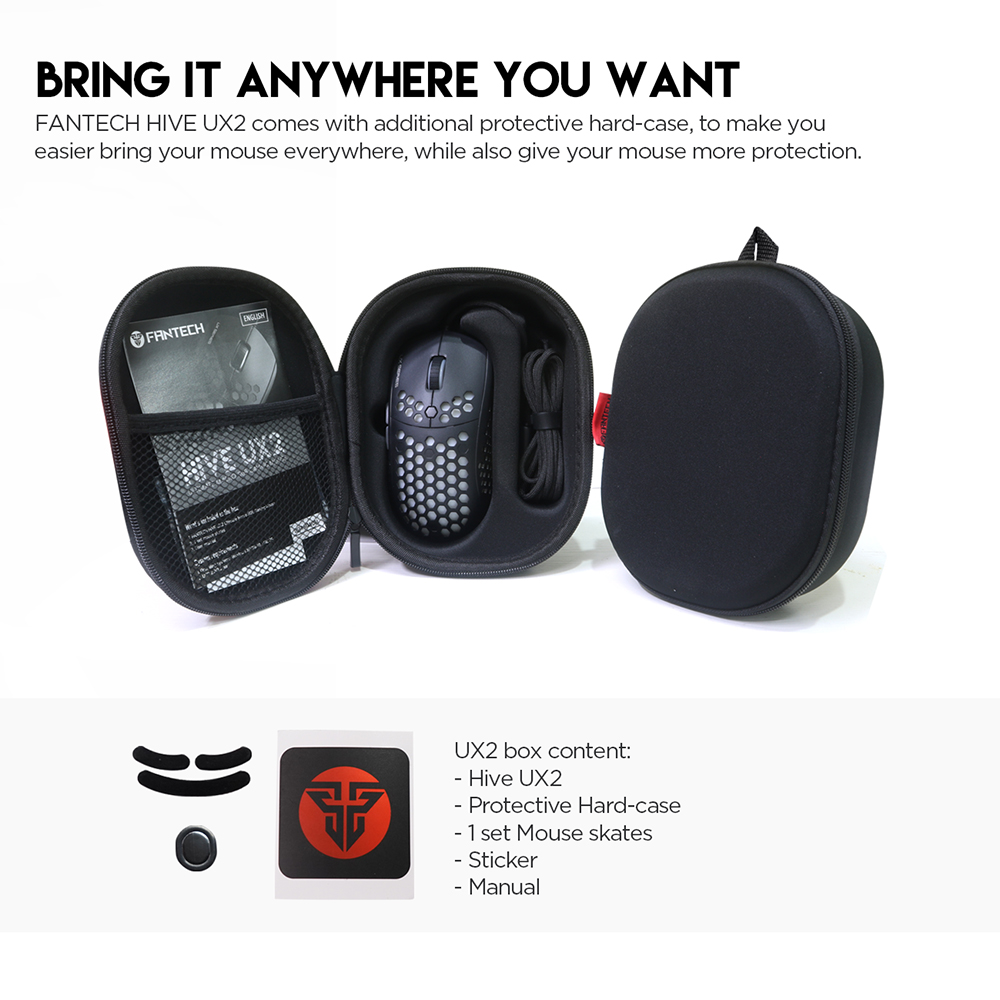 SWITCHWES MADE FOR DURBAILITY
Equipped with 50 million clicks lifetime switches made for extra
Durability even in extreme using condition while ensuring
They stay quick and hyper-responsive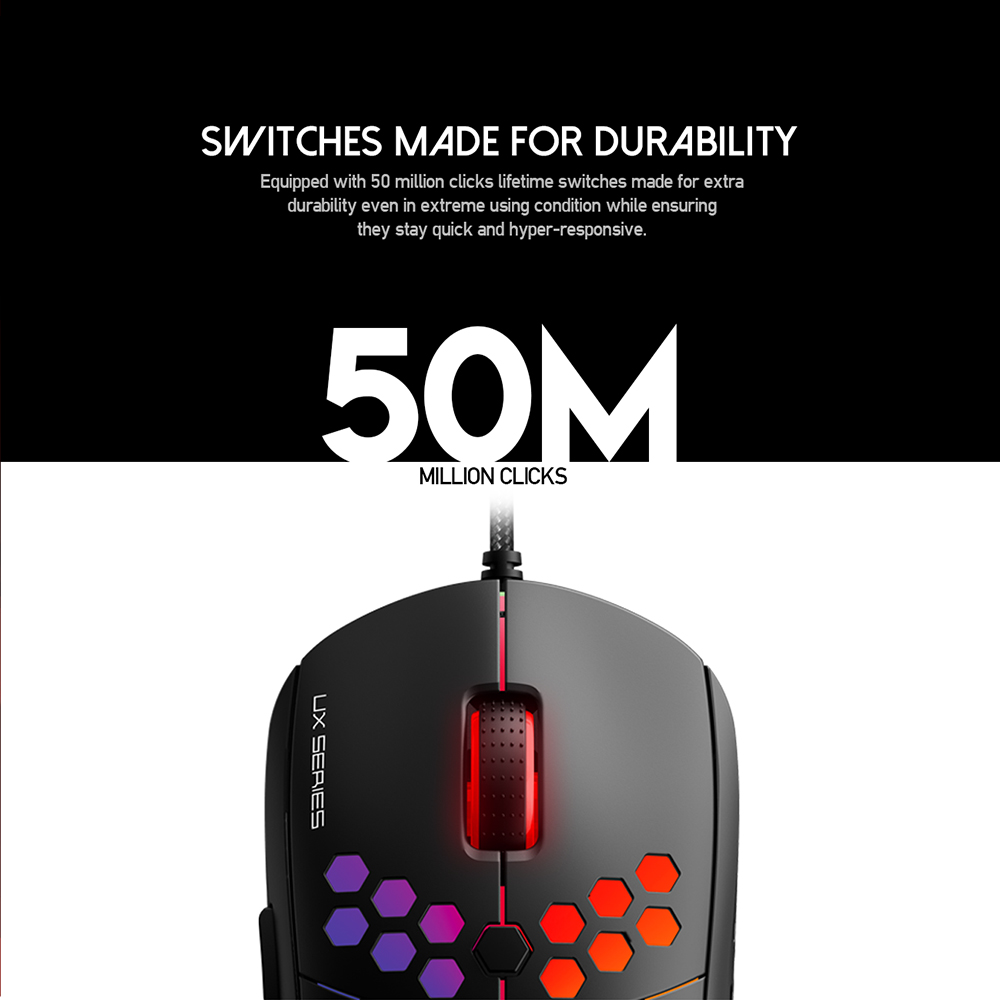 6D MACRO FUNCTION PERFORMANCE
Fantech HIVE UX2 designed with 6 programmable buttons for your macro assignment which can save up to 3 profiles , also support left click button script and delay editing
LIGHT AND FLEXIBLE
LIKE IT'S NOT EVEN THERE
Say goodbye to 3rd party modes and say hello to the Ascended Cord.
Our paracord is ultra-flexible and super lightweight, give your mouse
An almost wireless feel.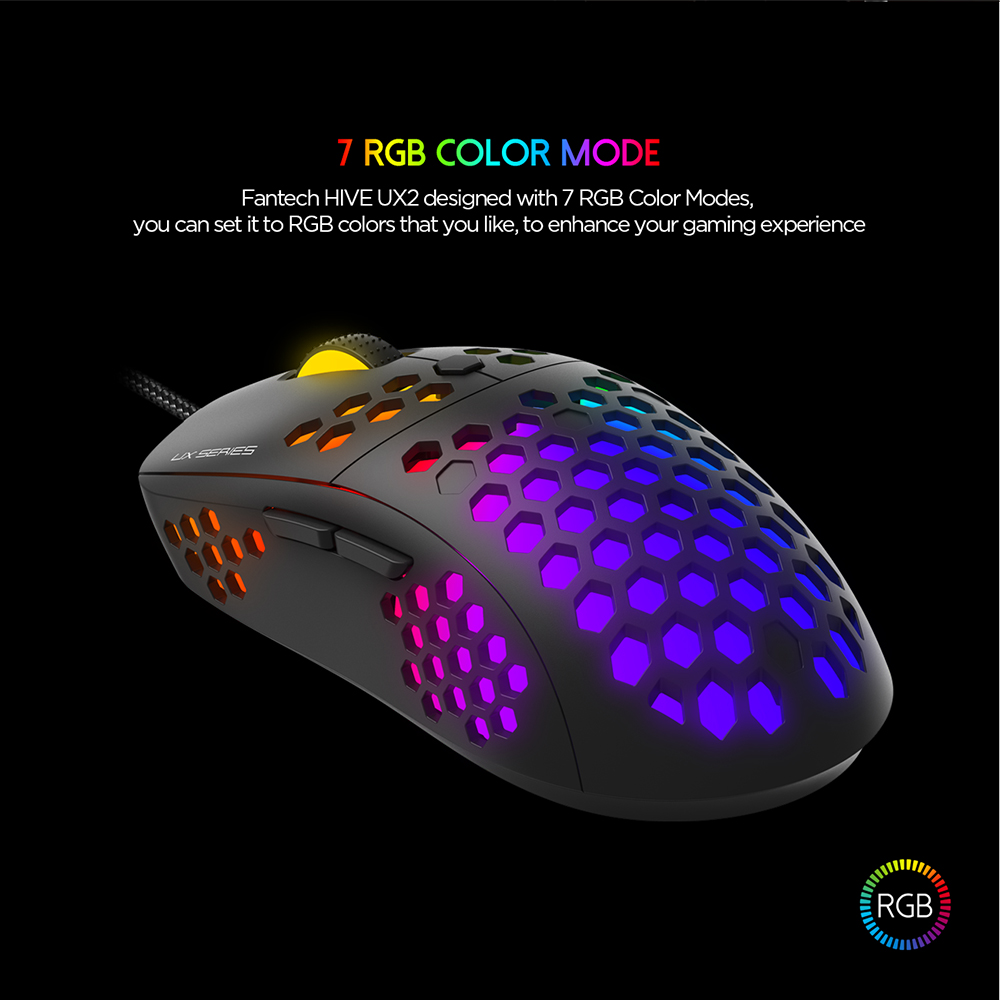 7 RGB COLOR MODE
Fantech HIVE UX2 designed with 7 RGB Color Mode, you can set it to RGB colors that you like, to enhance your gaming experience
DPI INDICATOR
The dedicated DPI indicator can be set to any value
Using HIVE UX2 software, so you always know your value
PIXART 3360 SENSOR
The competitive E-Sports industry standard. Pixel perfect tracking up to 250ips and 50g mouse acceleration, no more spin-out with 1000 Hz polling rate
COUSTOMIZATION
MAKE IT YOURS
Fantech HIVE UX2 bundled with software which can be downloaded from www.fantechworld.com
you can adjust everything from buttons assignment, macro editing, sensitivity scroll and double-click speed, the DPI stage, then report rate, color and even the effect of the RGB light. Which can be saved to its on-board memory.
74GR LIGHTWEIGHT DESIGN
Enjoy faster and smoother control with the lightweight gaming mouse with weighing just 74gr, it achieves its weight without compromising on the build strength of its ambidextrous from factor
BRING IT ANYWHERE YOU WANT
additional Protective
For more information Click here